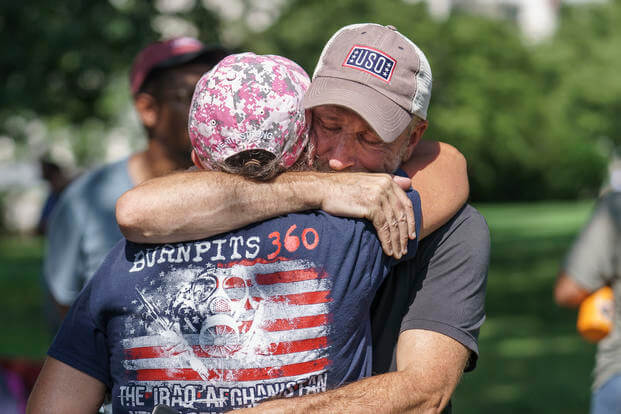 After 3 attempts, Veterans Toxic Exposure Bill – the PACT Act – finally passes the US Senate
WASHINGTON, DC — Victory cheers and tears of joy erupted in the US Senate chambers on Tuesday as the Legislature finally passed legislation that will provide health care and disability compensation to millions of veterans who have contracted environmental illnesses while in service.
The 86-11 vote on the Sergeant First Class Heath Robinson Honoring Our Promise to Address Comprehensive Toxics Act, also known as the PACT Act, came six days after the bill failed to legislate in the Senate. That failure sparked protests and a 24-hour vigil by veterans and family members at the US Capitol, drawing national attention to the plight of troops with diseases associated with living and working near outdoor landfill incineration pits associated with or exposed to radiation, herbicides and other chemicals encountered on battlefields.
"These leaders are making history here," said Rosie Torres, who founded the advocacy group Burn Pits 360 more than a decade ago with her husband, former Army officer Le Roy Torres, and others. "I want to recognize the veterans who haven't gone home, the ones who have been walking the halls for 13 years. … We have done everything for the fallen who are not here."
Continue reading: Tricare starts charging for telemedicine appointments but makes phone visits permanent
The bill now goes to President Joe Biden's desk. He is expected to sign it in the coming weeks.
The move followed several days of negotiations between Senate Democrats and Republicans that resulted in three lawmakers offering changes on issues such as paying for the legislation and protecting the Department of Veterans Affairs' private health program from being overwhelmed by an influx of new patients.
Ultimately, the measure sailed past the 60 votes required to pass the law.
"They did that. They never gave up, and we won," Senate Majority Leader Chuck Schumer of New York said after the vote to the veterans crowd in the Capitol.
The Senate voted 55-42 on July 27 to pass the bill. But it fell short of the 60 needed for a final vote.
The failure sparked outrage among veterans and advocates, who have campaigned for years to ensure access to health care and disability benefits for post-9/11 and other era veterans who have inhaled chemicals or been exposed to carcinogens during their service .
Veterans camped out in 90+ degree heat, high humidity and driving rain and storms to force the Senate to make another decision. For six days, sympathetic senators, VA Secretary Denis McDonough and attorneys including comedian Jon Stewart brought food, water and other support to those camped on the Senate steps.
The bill had already passed the Senate by an 84-14 vote in June and appeared to be on a glide path to becoming law. But shortly after the Senate vote, House lawmakers discovered language that violated the constitutional requirement that tax-related matters originate in the lower house. The problematic section would have created a tax incentive to encourage healthcare workers to move to rural VA facilities.
The House of Representatives then earlier this month passed a version of the bill without the tax language by a vote of 342 to 88 and sent it back to the Senate; this vote failed.
But the third time was the appeal.
Stewart, who has worked for months to bring the issue before lawmakers – including the president, who mentioned arson pits in his State of the Union address this year – said he was "relieved."
"I'm just relieved, man. So happy about that [the veterans] can finally go home," Stewart said in an interview with Military.com after the passage.
"Today's passage of the PACT Act is a milestone for veterans of all ages, conflicts and their families," Tim Borland, national commander of Veterans of Foreign Wars, said in a statement after the vote. "Too many of our veterans have suffered the effects of toxic exposure over the years with no medical care, no compensation, and no support for their loved ones."
The PACT Act will expand health care and benefits for post-9/11 veterans exposed to incinerator pits used in Iraq, Afghanistan and elsewhere to incinerate garbage and other environmental hazards such as volatile organic compounds, depleted uranium and petrochemicals .
The bill identifies 23 illnesses believed to be linked to military service and paves the way for veterans to receive expedited medical services and disability benefits without having to prove their illness is linked to military service.
The bill also includes provisions for veterans who have served in previous conflicts. It would expand the benefits for Vietnam-era veterans who developed hypertension as a result of exposure to Agent Orange. would allow veterans and family members sickened by contaminated water at Camp Lejeune, North Carolina to file lawsuits; and expanding coverage for veterans exposed to radiation during hazardous cleanup operations in the 1960s and 1970s.
Proposed changes to the legislation included one by Sen. Pat Toomey, R-Pa., who proposed the bill be funded primarily from discretionary appropriations, the amount of which will be determined and determined by Congress each year, rather than from mandatory expenditures that are automatic in each budget cycle would have to be financed.
A second was offered by Sen. Rand Paul, R-Ky., who tried to defray the bill's costs by cutting funding to the U.S. Agency for International Development, while Sen. Marsha Blackburn, R-Tenn. , a change offered to allow veterans in the VA health care system immediate access to community care.
All three failed.
The Congressional Budget Office estimated the bill would cost more than $278 billion over the next 10 years.
VA Secretary McDonough said the department would work to ensure the expansion needed to meet the needs of newly eligible veterans would not delay or disrupt care for veterans currently in the system.
"This is a very important law. I think it would be very difficult to implement, but often the most important things are difficult and I think we're ready for that," he said during a hearing in June.
"I am pleased. I think this bill will save lives. I think he will support the veteran community," Samantha Turner, a former Army officer, said after the vote. "But I'm also frustrated. I want to make sure that veterans' lives and veterans' legislation are never used as political football ever again."
.– Patricia Kime can be reached at [email protected] Follow her on Twitter @Patriciakime.
— Drew Lawrence can be reached at [email protected] Follow him on Twitter @df_lawrence.
Related: Estimated costs of toxic exposure are more than a quarter trillion dollars, but bipartisan support holds
Read complete message
© Copyright 2022 Military.com. All rights reserved. This material may not be published, broadcast, transcribed or redistributed.